Sweet Baby Leprechauns. It's St. Paddy's Day Eve and I haven't blogged a lick about LAST week's Boston Marathon training with My Beloved Hansons Marathon Method. Nevermind mind that THIS week's running recap is a mere pint of Guinness away. Ok. 3 pints. A blizzard and far too many annoying treadmill runs got in my way of blogging. Seriously, Poodles. I'm starting to freak out a bit. Boston, like Winter, is (still) coming. Fast. I've been anxious about it all damn week. More of my Boston Marathon Neuroses later. Promise. Let's talk about last week, shall we? At least before I freak about this week.  Here's how it went!
Marathon Goal: 3:45
Marathon Pace/Tempo Run Pace: 8:35
Easy Run Pace: 9:35 to 10:35
Speed Interval Pace: 7:35
Strength Interval Pace: 8:15
Monday: Easy run. 8 miles. 9:28 pace. And just like that. Cumulative fatigue has reared it's dead head. I was tuckered. I rolled. I stretched. I drank a beer. Nothing helped.
Tuesday: Strength Intervals. 3 x 2 miles, 800m recovery. 8:16 pace. 10 miles total with warm up/ recovery. Hard. These were hard. Especially considering Monday's run was spent jogging through a kiddie pool of cumulative fatigue and regret. And guess what, Colby? The next few weeks of training? Stinks.  It's awful. They're the hardest weeks. Physically, mentally – all a Sufferfest. I'm talking to myself in the third person so I READ THIS SHIT AND REALIZE THAT I NEED TO SUCK IT UP. BOSTON IS COMING, COLBY. GET IT TOGETHER. DO WERK.  EYE OF THE TIGER, BITCH!
Sorry. That needed to happen.
Wednesday; Restfuckingday.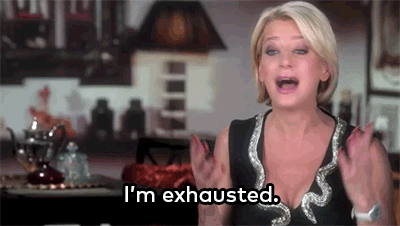 Clearly, I needed it.
Thursday: Tempo Run. 9 miles at 8:35. 11 miles total. Although I felt as if every damn run was killing me softly, this one actually felt good. Despite my angst, the training is working. The paces ARE becoming comfortable. Familiar, even. Trust the training, Colby.
See?!? There I go again. I need a serious talking to.
Friday: Easy Run. 7 miles total. 9:20 pace. And the miles just keep on coming! Long day. Long run. Late supper. Agony.
Saturday; Easy Run. 8 miles total. 9:22 pace. Bitter. Cold. Wind. I just….can't. Or, couldn't. This run was such an effort. It amazes me how you can run an out and back and have a bone chilling fierce headwind THE WHOLE GODDAMN TIME.
Sunday: Long Run. 16 miles. 9:28 pace.  And here I thought Saturday was miserable. So cold. With wind chill it was a single degree in the morning. Looking on the brighter, warmer side, I should really be thankful.  I've been training all winter in New England. It's usually a Snowy Shit Show up in here. While this winter was relatively "mild", days like this make me realize that I could have been a miserable, cold Snow Monster for 3 months instead of 3 days.
So at least there's that. 😊
Total number of miles run: 60
Number of hours of lost sleep panicking about running Boston: 5
Number of tears shed whilst running into a bitter cold headwind: Too many to count. Besides, they were frozen. 
Do you experience a Pre-Marathon Nervous Breakdown while training? Do you occasionally burst into tears while training or am I the only one? 😫